Tickets
There's only one type of concert ticket - General Admission. General admission includes concert entry for the three days of the festival and camping for four nights.
You can also buy one or both of the optional extras:
Early Entry Camping Pass, allowing extra days of camping before the event.
Early Exit Pass, allowing earlier 'roll out' from the Mundiville campground.
See tickets and pricing for a comparison of all tickets types and what they provide.
An early entry camping pass is an optional pass available for purchase, which allows extra nights camping at Mundiville before the event. See
Early Entry Camping Pass
for full details
You can buy an Early Entry Camping Pass from Oztix, either at the time of buying your general admission ticket, or at any time after you've bought your concert ticket provided they haven't sold out.
An early exit pass is an optional pass available for purchase, allowing you to exit the campground early, on Saturday afternoon. Passes cost $15, and 100% of this fee is donated to RFDS. There's a limited quantity available. Click
here
for full details.
Managing the number of vehicles at night on outback roads is a key safety consideration for this remote event, and we work closely with emergency services, council and police on this issue. For safety reasons we can only release a limited quantity of Early Roll Out Passes and the small fee (100% donated to RFDS) helps to ensure that only those who genuinely intend to leave early purchase a pass.
Early Exit Passes will be available from the
Early Exit Pass
page, closer to the event. We will notify all ticket holders via email when they are available. 
Your wristband allows unlimited entry and exit from the concert area and Mundiville site. Passouts are not required.
However please note that that there are strict restrictions on vehicle movements for vehicles inside the campground: Your car must remain parked and stationary at your campsite for the duration of the event, until roll out. Passouts are not available for vehicles.
For full details on entry & exit rules for vehicles see Camping Overview.
You can purchase tickets online from Oztix. Tickets may sell out so buy your ticket ASAP. Click
here
for info about tickets. 
You will receive an email ticket (e-ticket) from Oztix, 6 weeks prior to the Mundi Mundi Bash festival. There is no physical ticket mailed out. Print or download your e-ticket and exchange it at the Ticket Collection office in BROKEN HILL for vehicle pass and wristband.
Wristbands and car passes will not be issued at the festival site. You will be sent back to Broken Hill if you arrive at Mundiville without them.
You must exchange your e-ticket for vehicle pass and wristbands at the
Ticket Collection
office in BROKEN HILL TOWN before you head to Mundiville.
Tickets are likely to sell out before the event, so we recommend buying your tickets online from Oztix. Tickets may be available to purchase in town if the event doesn't sell out, but we recommend buying online to avoid disappointment.
Yes, the Mundi Mundi Bash is family friendly, and we even have some activities and shows just for kids. Children 11 and under are free, youth (12 to 17) tickets and family tickets are also available.
You will need a debit or credit card to purchase tickets.
No. We will be issuing heavy duty wristbands that will last for the duration of the event. We are unable to reissue or replace wristbands so please treat it like cash.
Tickets are not refundable. For details on a when a refund would be issued, see our ticketing Terms and Conditions.
If you purchased Booking Protect insurance with your tickets and need to request a refund, you must log into www.bookingprotect.com and fill in and submit the Refund Application Form as soon as possible after becoming aware of circumstances that may lead you to request a refund, but no more than 45 days after the booked event.
You can read the full Booking Protect terms and conditions here.
As per terms and conditions, tickets may not be resold, unless at the point of sell out via an official Oztix resale facility.
Relocated
Due to the possibility of adverse weather conditions affecting the access and safety of the proposed Event venue, The Broken Hill Mundi Mundi Bash reserves the right to change the venue location to alternative sites within the Broken Hill area at any time prior to or during the Event.
Cancellation of Event
If the event is cancelled due to adverse weather conditions, ticket holders will be refunded the amount of their tickets purchased via Oztix.
For full details see the ticketing Terms and Conditions.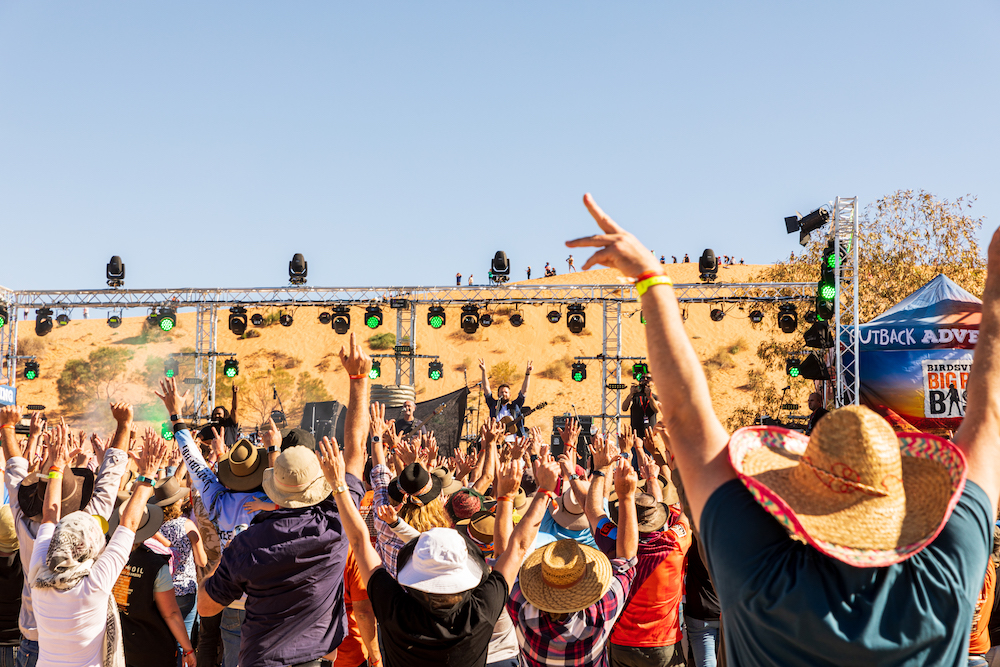 Getting There
The Mundi Mundi Bash is 40kms north west of Broken Hill, NSW, on the magnificent Mundi Mundi Plains. We call the Mundi Mundi Bash site 'Mundiville'. You'll find further
Directions to Mundiville
here. 
Head north out of Broken Hill on Galena Street towards Silverton, which becomes the Silverton Road. You'll follow this road for 27km before passing Silverton and continuing on to Mundiville which is approximately 13km past Silverton. See Directions to Mundiville for more details.
Broken Hill is a large regional centre and has several supermarkets, hardware stores, department stores, pharmacies, medical centres and a hospital. 
There are many restaurants, cafes and pubs throughout the town.
Broken Hill has various accommodation options such as caravan parks, hotels and motels.
Yes, there will be a privately operated transfer bus operating between Mundiville and Broken Hill.
Details of this service including the cost and timetable will be available closer to the event. 
This is a great service if you intend to stay in Broken Hill rather than at the Mundiville campsite, and don't want the hassle of driving between the festival and your accommodation each day.
Yes, you can choose to stay in Broken Hill and commute to and from Mundiville each day (40kms). You'll be directed to Day Parking near the concert area. See
Day Tripping from Broken Hill
 for more details.
If you are using the main, most direct routes to travel to Broken Hill, you will unlikely be affected by any road closures. 

Outback roads (particularly unsealed roads) can be closed after local rain. They usually re-open reasonably quickly. Plan ahead if you are taking a road trip on the more remote outback roads, and have a few alternative routes up your sleeve. 
Keep up to date with outback road conditions in the lead up to the Mundi Mundi Bash, and check out our tips for Driving in the Outback. Leave a few days spare for unexpected detours.
You can reach Broken Hill and the Mundi Mundi Bash by 2WD. In fact, the only unsealed road is the final 2km stretch to the entrance of Mundiville, and this section is suitable for all vehicle types.
If you'd like to explore the outback or further into the desert, you'll get further with a 4WD. There are a number of touring routes in the surrounding areas of Broken Hill, perfect for those looking to explore a little further.
Our tyres policy is based on the advice of Adam Plate the old owner of the Pink Roadhouse at Oodnadatta who we met in the late 90s and early 2000s. Adam was a legend in outback SA driving and was a key figure in raising awareness of the advantages of lower pressures on rough roads.
In our event vehicles we drop all tyre pressures and since doing so have seen a noticeable decrease in tyre damage and cost. We adopt the same tyre pressure guidelines for all vehicles: 2WD, small AWD like Subarus, 4WDs whether lightly or heavily laden, our event trailers and heavy rigid trucks. For smaller vehicles on gravel roads we drop by about 20% below highway pressures and the larger vehicles like event trucks we drop to about 55% of highway pressures. We take about 15 vehicles out to the Bash each year and have very few damaged tyres since using these guidelines.
Camping
Yes, your regular ticket entitles you to four nights camping at Mundiville campground Thursday 18th, Friday 19th, Saturday 20th and Sunday 21st August. You need to depart the campground by midday Monday 22nd August.
If you're a regular ticket holder you can camp on the nights of Thursday 18th, Friday 19th, Saturday 20th and Sunday 21st April. You need to depart the campground by midday on Monday 22nd August.
If you purchase an additional Early Entry Camping pass you can camp earlier, from the night of Tuesday 16th or Wednesday 17th August.
No, camping on Sunday night (21st August) is included in the cost of your regular ticket.
Campsite boundaries are marked out, like in a caravan park. You'll receive a minimum of approx. 90sqm per vehicle. Shapes of campsites will vary, but most will be around 6.75 x 13.5m .
To prevent the risk of a fire spreading, you must place all structures at least 1 metre from the back and side boundaries of your campsite, and guy ropes can protrude another 40cm. Marshals will enforce this rule.
No. When you arrive at the site our marshals will direct you to the best available campsite. It's first in best dressed.
No, you'll need to walk from your campsite to the concert area. Once your vehicle is parked at your campsite it must stay parked and stationary until 7am Sunday 21st August.
If you want to go to Broken Hill during the event you can catch the transfer bus, which runs on music days. The bus transfer schedule will be released closer to the event.
Alternatively, if you've moved your vehicle to Day Parking during one of the permitted times (see Camping Overview page), you can use your own vehicle to visit town.
Roll out begins 7am on Sunday 21st August. You'll have until midday Monday 22nd August to leave.
Yes however you must arrive at Mundiville TOGETHER if you want to camp together. Meet up in Broken Hill and drive the final 40kms to Mundiville in convoy.
No, space saving is not allowed. If you want to camp next to someone else, you must arrive at Mundiville together.
We expect that 99% of setups will fit in the generous campsite allocation, however if your big-rig physically doesn't fit, we will have a few larger sites available in each camping area.
Unregistered vehicles, drones and unmanned aerial vehicles (UAV) are prohibited. Glass must stay in your camp kitchen (no glass in concert, public or camp areas) and we don't allow animals (except for dogs, if you've registered that you're bringing a dog).
We also have rules on black water & toilet cassettes, grey water, rubbish, recycling and more. See Mundiville Site Rules for full details.
A range of food vendors will be selling hot and cold food at the event. Most campers choose to bring some food with them, and also support the food vendors for some meals and/or snacks. See
Food
.
Yes. If you want to camp as a group with other vehicles, you must arrive at the Mundi Mundi Bash site together. You won't be able to save a spot for a later arrival. Groups that arrive together will be allocated adjacent campsites, one per vehicle. Groups can join two or more adjacent campsites and use the internal area however they wish, however you must leave space between your cooking areas and other structures, and you must place all structures at least 1 metre from the outer boundaries of the 'joined' site.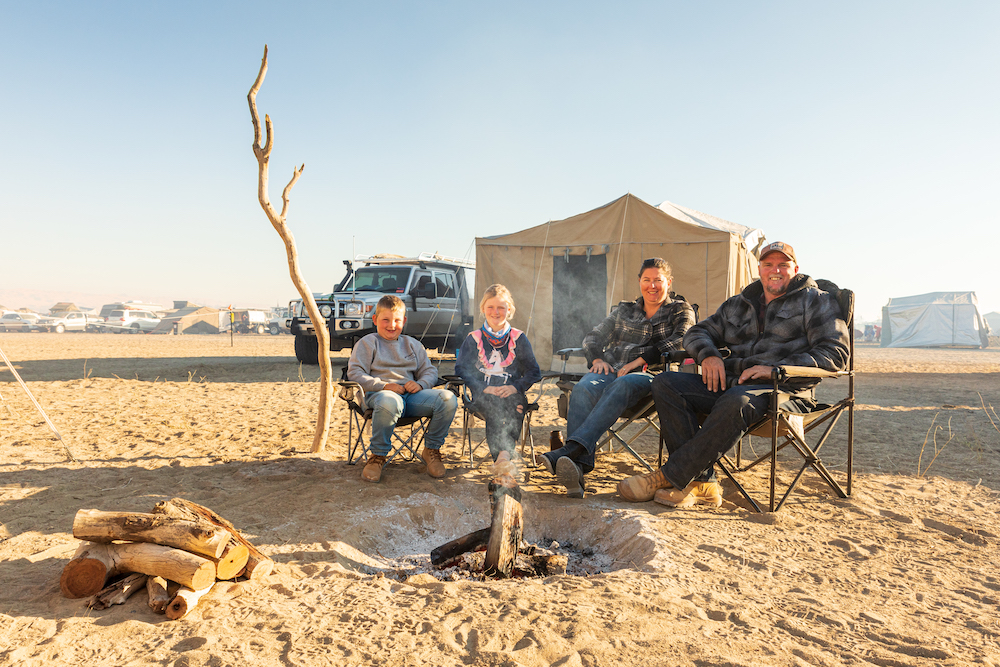 Concert & Other Entertainment
Check out our
artist
page for our fantastic line up. A playing schedule will be released closer to the event date.
Yes, you can bring your own alcohol & food in. Please drink responsibly, no BBQs, and eskys of a reasonable size only.
Yes, as long as it's of a reasonable size.
No. Tents, umbrellas, sunshades, or anything that will obstruct the views of stage aren't permitted in the concert area.
Yes, and you can use this anywhere except for the reserved picnic rug / dancing area.
No, there's no smoking anywhere within the concert area. You must go outside and at least 10m from the boundary fence to smoke.
Yes, bins are provided in the plaza & concert area for rubbish & aluminium can recycling. These are only for use by pedestrians in the area. No campsite rubbish. For more details see
Facilities
.
Glass, metal cutlery, umbrellas, tables, sunshades or anything that will obstruct view of the stage, and aerosols are all prohibited. There will be bag checks as you enter the concert area and prohibited items will be confiscated.
EFTPOS facilities are limited at Mundiville so we recommend that you bring plenty of cash. Food vendors will not have any EFTPOS, however Merchandise will have EFTPOS available, along with a cash out facility.
No, camping and roll out continues through until Monday to reduce vehicle congestion and allow extra flexibility for patrons, however the event and all entertainment officially finishes on Saturday night.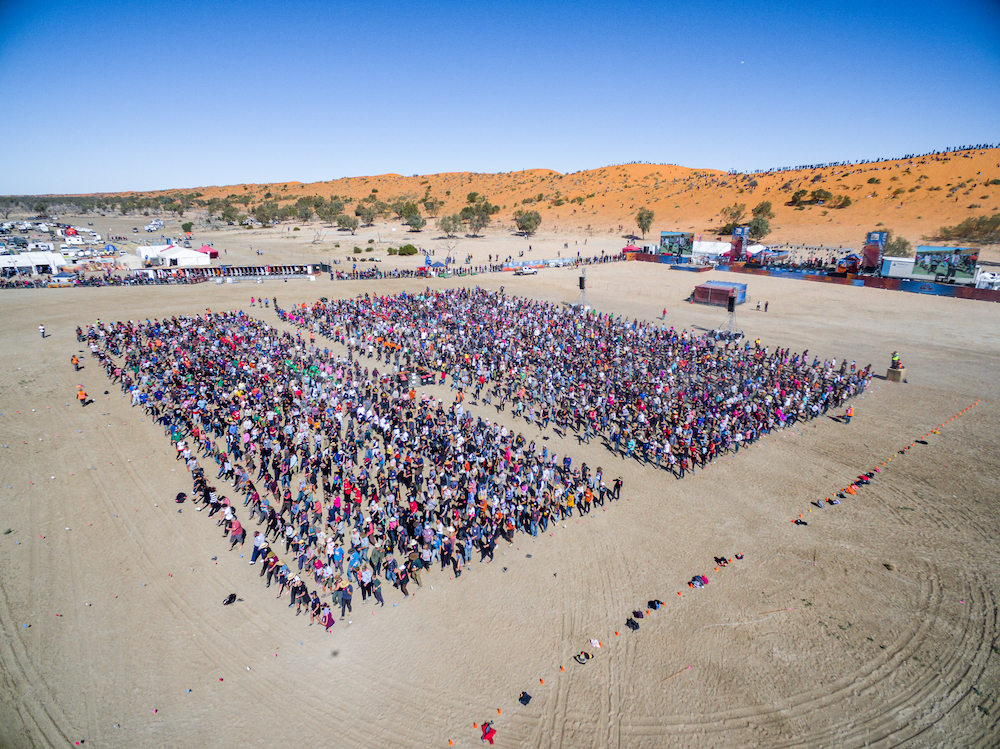 Merchandise
A full range of merchandise including festival t-shirts, hoodies, jackets, polo shirts, kids gear and souvenir items will be available at the Mundi Mundi Bash merchandise tent from 16th to 20th August.
Our merchandise range will be made available to view online closer to the event. 

Food, Drink & Facilities
There'll be a range of food vendors at the event selling hot & cold food. See
Food
for details. Most campers bring some of their own food too.
No, it's a BYO event and no alcohol is for sale on-site. The Silverton Pub is the closest place to buy takeaway alcohol, so call in on the way to Mundiville, or alternatively you can make your purchases in Broken Hill or bring it along from home.
No, please bring your own. Broken Hill town has drinking water available from various locations. See
Broken Hill Facilities
for more info.
Yes, aluminium can and PET plastic recycling bins will be available in the plaza and concert area. Bring your cans and PET plastics for recycling and help us run a sustainable event!
Facilities
.
Yes, a comprehensive medical facility will be available at Mundiville. Please plan ahead and attend to any existing health problems before you arrive.
No, you'll need to bring all the medications that you'll need for the duration of the event. The closest chemist is in Broken Hill. 
Toilets are available until midday Monday 22nd August, however all other facilities will no longer be available. This includes food vendors, who will stop serving after breakfast on Sunday 21st August, and the Mundiville medical centre. Please plan to be self sufficient if you're staying Sunday night. See
facilities
for more info.
No, food vendors will stop serving after breakfast on Sunday 21st August. Make sure you bring your own food if you're staying until Monday 22nd.
Lost property is located at the Info Tent at Mundiville. After the event any lost property that hasn't been claimed will be handed to the Broken Hill Police station.
Dogs
The Mundi Mundi Bash has dog-friendly camping and concert areas. When you buy your ticket, please also add a ticket for any dogs you will be bringing along (no additional charge). Please read the
Dog Attendance Rules
.
We have a separate 'dog friendly' area of the concert area which you can bring your dog into.
Disability
We welcome guests with special needs and those who are less-abled. The Mundi Mundi Bash is held in a remote area but we do our best to provide facilities and assist in any way possible. For more information and to register, please see
Patrons with a Disability
.
Parking at the concert area is strictly prohibited.
Yes, you can stay in Broken Hill & drive to Mundiville each day. Make sure you've registered as a patron with a disability if want to use the Disability Dropoff point next to the concert area. See
Patrons with a Disability
.
Unfortunately we're only able to provide special assistance to patrons who have a government issued disability parking permit. If you don't have a government issued permit, we recommend that, if eligible, you apply for one before the event. See
Patrons with a Disability
for further details.
Weather
The weather is usually mild in August with temperatures averaging between 7-18 degrees Celsius. Rainfall averages 18mm per month. Temperatures can range from zero at night to 25 during the day - so come prepared and see
Weather
.
If it does rain the show will go ahead unless conditions are deemed to be dangerous. If the forecast shows the possibility of rain, bring a good quality raincoat and suitable footwear. The decision to cancel a show will be made on show day if required. In the event of inclement weather patrons should check this website BEFORE departing for the show for messages regarding traffic, parking or wet weather arrangements.
Please note that if there is inclement weather such as significant rain during the Bash, which makes the advertised location unsuitable for staging the event, the organisers reserve the right to re locate the event to another location in the Broken Hill vicinity. In the unlikely event of this occurring you will be advised of the new venue details when you arrive at Broken Hill to pick up your wristbands.