A limited number of tickets have been made available for Broken Hill locals to attend the festival for a single day on Thursday 18th, Friday 19th or Saturday 20th of August.
Join us for a full day of fun festival activities, followed by an afternoon of entertainment by some of Australia's very best performers!
Tickets for Local Day are strictly for residents of Broken Hill only - our small way of thanking the wonderful locals for their exceptional hospitality! Photo ID will be required to exchange your e-ticket for festival wristband at the Ticketing Office.
TICKET PRICES
Local Day tickets for the Mundi Mundi Bash give you entry to the festival on a single day of your choice.
Adult $178
Youth (12 - 17 years) $39
Child (11 years & under) Free
Please scroll down to view the daily artist playing schedule and festival activities.
VACCINATION POLICY
Everyone attending the August 2022 Mundi Mundi Bash must be double-vaccinated against COVID-19. Booster shots are not required. Learn more here.
TICKETING OFFICE HOURS & LOCATION
You must exchange your e-ticket for a vehicle pass and wristband at the Ticket Office located at Broken Hill Racecourse, BEFORE you head to Mundiville. Locals Tickets can be picked up at the following times:
Saturday 13th - Friday 19th August: 9am-5pm
Saturday 20th August: 9am-3pm
Download or print your e-ticket before you arrive. Make sure you pre-purchase your tickets well before the event.
GETTING THERE
Once you have your vehicle pass and wristbands, you're ready to head to Mundiville! Click here for instructions on how to get there. You can also learn more about our Transfer Bus options here.
Some roads may have temporary event speed limits in place. Be aware of changed speed limits in and around Broken Hill and Silverton.
Extra police will be around – drive carefully.
PLEASE NOTE: The Mundi Mundi Lookout will be closed for safety reasons during peak traffic times from Monday 15th - Sunday 21st August, 2022.
PARKING AT MUNDIVILLE
Local Day ticket holders can park in the Local Day Parking Area at Mundiville. The main concert area is approximately 400m from this parking area.
You can view the Local Day Parking location on our Festival Maps, which are also available on the Bash App.
DEPARTING MUNDIVILLE
Local Day ticket holders must leave the site from the Local Day parking area after the concert concludes. There is no camping on site or in the Day Parking Area permitted for day ticket holders on concert evenings.
DOGS
The Mundi Mundi Bash is dog friendly! Local Day ticket holders don't need to register to bring a dog, however there are a few rules in place to ensure everyone attending is able to enjoy the event. This includes:
Dogs are to be kept on leads and under your control at all times.
Keep to the dog friendly areas which include the dog concert area, and the main plaza (keeping 10m from food vending areas).
Clean up your dog's droppings and dispose of it in the available bins provided specifically for this purpose.
All dogs must have a tag noting dog name, your name, your car (make, model, colour, number plate) and your phone number. This is to allow for the easiest possible reconnection of any lost dogs with their owners.
If your dog has a tendency to bark at times, or has any behavioural traits that would not be suitable in this environment, we ask you to respect the rights of others and leave your pooch at home.
WHAT TO BRING
FOOD
The Mundi Mundi Bash has a number of food vendors who provide a delicious and wide variety of cuisine. You are also welcome to bring your own food with you.
WATER
Bottled water is available from food vendors or you can bring your own, there is no running water on site.
SEATING
Seating is NOT provided in the concert area, you will need to bring your own chair or blanket if you'd like to sit during the festival.
ALCOHOL
The festival is BYO alcohol, however no glass is permitted, so you'll need to pack cans and casks. Alcohol is not sold at the festival site.
LIGHTING
The main concert areas are well lit, however the surrounding road ways, campsites and parking areas are not lit. We recommend a small torch or head torch to assist you on your walk back to Day Parking when the festival concludes.
OTHER GEAR
This is an outdoor festival. The weather is likely to be warm during the day, so you'll want a hat and light clothes, but it can get pretty chilly at night, so we suggest packing for cold conditions as well.
A number of items are NOT permitted into the festival area. Use the checklist below to help you plan!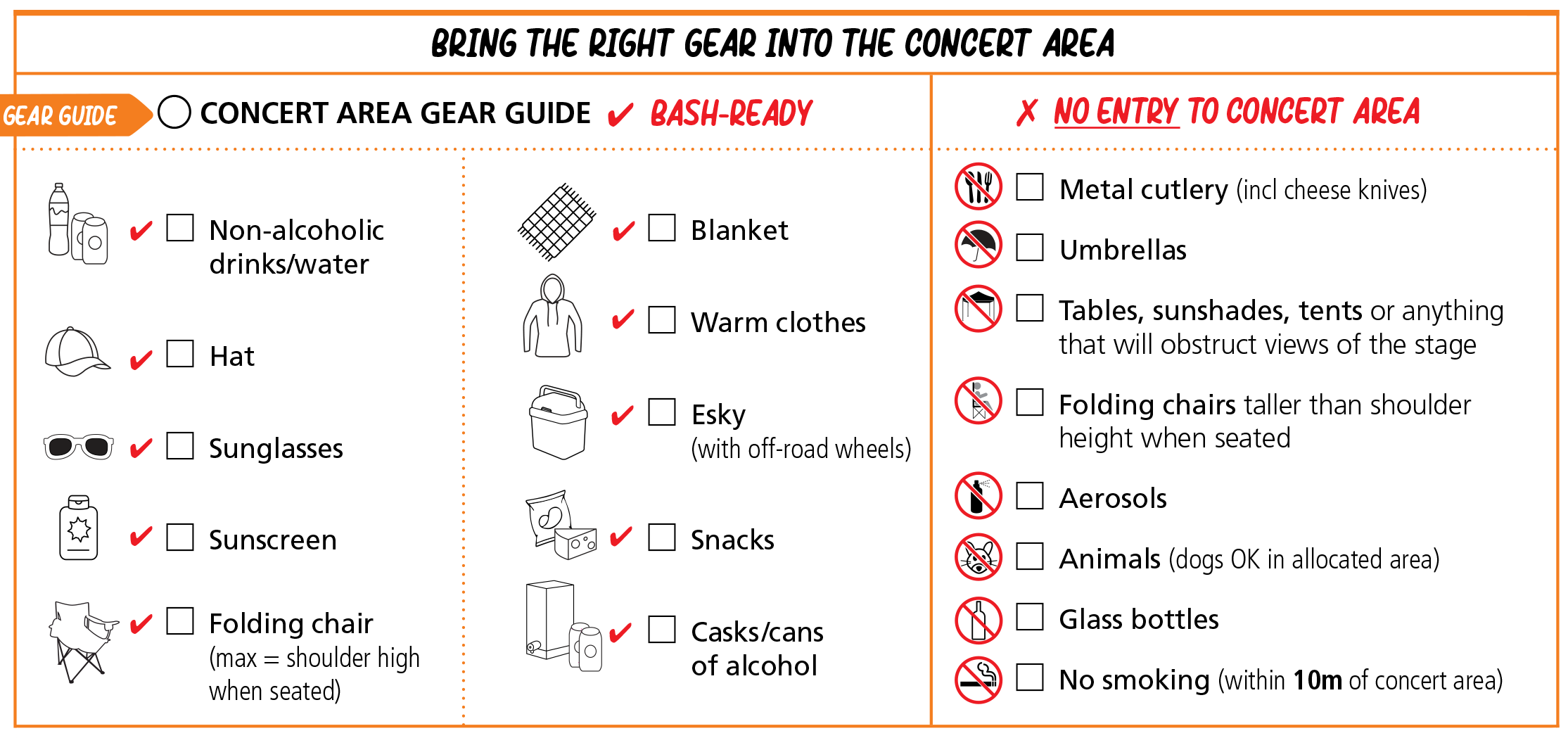 DISABILITY SERVICES
We welcome patrons with a disability or accessibility requirements and will support your attendance in any way we can, however it's worth remembering that this is a concert in a remote area and while we'll do everything we can, some of the disability facilities and surfaces you might see in an urban area might not be possible.
If you have a government issued disability parking permit, please present it at the Ticketing Office when you collect your wristbands to ensure we can provide you with the appropriate vehicle stickers and wristbands to access these facilities:
DISABILITY DROP OFF
Your windscreen disability sticker will allow you to drop off passengers at the concert area disability access gate (south side of the stage) and return to park in the Local Day Parking area (no parking permitted at the drop off area). If the driver has a disability permit for mobility reasons contact us and we'll work out a solution.
DISABILITY SEATING AREA
A disability seating area is located just inside the concert area near the disability access gate. Only patrons who have been issued a disability access wristband are allowed to use this area, and you can have up to four others sitting with you. If you want to sit with more than four people, you can use the general seating area.
TOILETS
A disabled-access toilet will be approx 20m from the disability seating area across a reasonably firm but unpaved surface.

THURSDAY
11AM Concert Area Gates Open
11:55AM SHOW COMMENCES
Playing Order: Official Welcome - Kylie Lionhart - Ash Grunwald - The Wolfe Brothers - Busby Marou - Richard Clapton
MISSY HIGGINS
MIDNIGHT OIL
8.55PM (approx) Show concludes
Download the Bash App for artist playing times.
FRIDAY
12:00PM Concert Area Gates Open
1:10PM SHOW COMMENCES
Playing Order: Melanie Dyer - Mick Thomas - Eurogliders - Sarah Mcleod - The Black Sorrows - Rolling Stones Revue: Starring Adalita, Tex Perkins & Tim Rogers
JON STEVENS

8.15PM (approx) Show concludes
SATURDAY
12:00PM Concert Area Gates Open
12:45PM SHOW COMMENCES
Playing Order: The Buckleys - Bachelor Girl - Pierce Brothers - Russell Morris - Daryl Braithwaite - Kasey Chambers
JIMMY BARNES

8.45PM (approx) Show concludes

THURSDAY
Mundi's Got Talent | 10am
We're looking for talented singers of all genres to perform in our showcase to a panel of judges and Mundi Mundi Bash attendees. Everyone is encouraged to apply!
Click here to learn more and apply online.
Doggie Fashions on the Plains | 12pm
Bash dogs and their favourite humans are invited to get dressed in their daintiest, most delightful, doggone coolest gear and strut their stuff before the judges and an adoring crowd on the plaza stage!
More information available here.
FRIDAY
Mundi Undi Run | 10am
Grab your undies and join the race at Mundiville where we'll be raising funds for the Royal Flying Doctor Service!
Click here for more information and to register online.
SATURDAY
Nutbush Dance World Record Attempt | 9am
The Birdsville Big Red Bash currently holds the record for the most people dancing the Nutbush: a total of 4084 people in 2022! Let's challenge this record on the Mundi Mundi Plains, and see if we can topple the Birdsville Big Red Bash from its record!
Click here for more information or to register to take part.
Mad Max Dress Up World Record Attempt | 9am
Bring along your Mad Max character gear and help us break the current world record for The Largest Gathering Of Mad Max Characters In One Location, currently set at 506!
More information about dress regulations, and the record attempt can be found here.
DAILY ACTIVITIES
Heli Joy Rides
Camel Rides
Petting Zoo
Dunny Door Painting
Sunrise Yoga
Stone Stacking
Learn more here or on the Bash App.