As Broken Hill swells with visitors in the period surrounding the Mundi Mundi Bash, we know accommodation is hard to come by. Roadside camping between Broken Hill and Mundiville is not permitted.
The Broken Hill Regional Events Centre & Racecourse, in true outback hospitality style, is opening up the infield of the racetrack to welcome visitors in numbers never before seen in the town!
This primitive style camping is perfect for self sufficient campers, while also offering a range of basic facilities. There are generously sized unpowered sites, as well as a limited number of powered sites for those looking for something more.
This is a fantastic base for travellers who wish to explore Broken Hill and surrounds.
Please ensure you read through all the information about Broken Hill Racecourse camping on this page. This is not a traditional caravan park, and it is vital that campers are aware of the facilities and plan their stay accordingly.
Racecourse camping bookings for the 2022 April Mundi Mundi Bash have closed. For information related to the August Mundi Mundi Bash, please click here.
Campsites are booked PER VEHICLE (not per person), and the ticket covers camping for all occupants of the vehicle. A booking must be made for every vehicle staying at the Broken Hill Racecourse Overflow Campsite.
Choose your dates and tickets carefully, once purchased, tickets are not refundable or transferrable and tickets will only be available until sold out. Please refer to the Terms and Conditions.
The campsite will be managed by the Broken Hill Regional Events Centre Reserve Land Manager, and all proceeds from your camping tickets will go back in to the Crown Land Reserve for the benefit of the Broken Hill community.
PRE FESTIVAL
Saturday 16th April through until Wednesday 20th April.
Unpowered
1, 3 and 5 night options available (you have the ability to purchase 2 consecutive single nights).
Powered
1, 3 and 5 night options available (you have the ability to purchase 2 consecutive single nights).
POST FESTIVAL
Saturday 23rd April to Wednesday 27th April.
Unpowered
1, 2, 3 and 4 night options.
Powered
1, 2, 3 and 4 night options.
Night of Saturday 23rd April
A single night stay option has been made available to cater for those patrons with Early Exit passes who will be departing the festival site on Saturday 23rd April.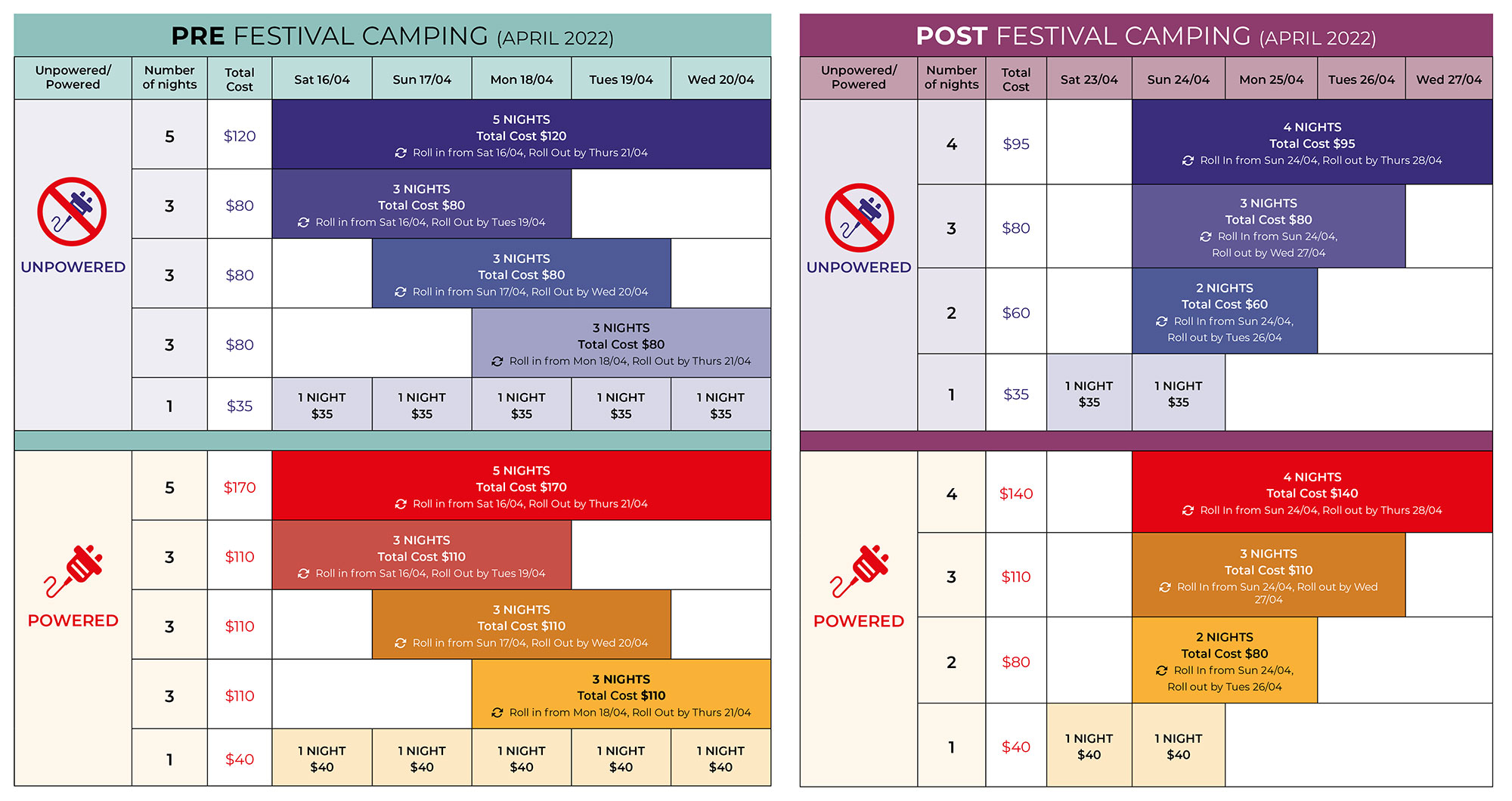 Exchange your e-ticket for windscreen sticker at the Mundi Mundi Bash Ticketing Office BEFORE entering the campground.
Check in on your first night by 6pm.

** Post Festival Campers, must exchange their e-ticket BEFORE the festival, as the ticketing office will not be open post festival. **

** If travel delays have prevented you arriving to collect your camping sticker before the Ticket Office closes, please speak to our friendly marshals who will assist you. **
Campers are expected to have rolled out by 10am on their designated roll out day which is indicated on their ticket. Your campsite must be left tidy and free of rubbish on your departure.
Once checked in, you are free to come and go at anytime from the campsite to allow you the freedom to explore all that Broken Hill and surrounds has to offer. There are no gate closures at the campsite.
All campsites are marked out. A maximum of 1 vehicle per campsite is permitted. Campsites are generously sized and will fit the majority of camp set ups.
Unpowered: 8 x 15m
Powered: 10 x 10m
You are required to leave a 1.5m clear boundary around the sides and rear of your campsite to maintain a fire safe layout. If you are camped in a group, you may choose to spread across adjoining campsites, while maintaining the 1.5 clear boundary around the combined campsites.
Campsites are filled in order of arrivals. If you'd like to camp with a group of other vehicles you will need to roll in together. There is no saving spots for later arrivals.
Please abide by the speed limit of 10km per hour to help keep our campers safe, and to assist with noise and dust suppression.
There are limited toilet and shower facilities onsite. Depending on where you are camped, it may be a 500m walk to the closest block. Generally, the longer stay campers will be situated closer to these facilities than single night campers.
There are two dump points available. They are accessible for big rigs, motor homes, or you can walk up with your canister. There is no charge for campers at the Broken Hill Racecourse to use this facility.
There is also a FREE dump point available at the Visitor Information Centre in town.
Grey water can be disposed of on your own campsite, in moderation. Please ensure your grey water doesn't run on to your neighbour's campsite or any adjoining roads or paths. No digging holes. 
Unpowered campers: water taps are available for you to fill up on arrival or departure. Bring your own hose.
Powered campers: water taps are available at your powered campsite. Bring your own hose. 1 tap is shared between approximately 4 powered sites so you can fill up and disconnect. Due to the shared use, permanent connection is not permitted.
There is no charge for campers at the Broken Hill Racecourse to use this facility.
Fires are NOT permitted on campsites at the Racecourse. There are underground cables and irrigation pipes which may be affected by fires. This includes fires in firepits, coal cooking devices etc.
There is a large designated communal area where campfires are permitted. Please consider bringing a log to keep the fire going as you enjoy this social area of the campground.
Dogs are most welcome at the Racecourse camping. There isn't a dedicated dog camping area, they are permitted on any campsite and do not require a booking. Please keep your dog/s on a leash, and pick up their droppings.
There is NO kitchen or laundry facilities at the Racecourse camping.
There will be bins located throughout the campsite for both rubbish and bottles/cans. Please ensure your campsite is free of any rubbish before you checkout. There will also be dumpers available for larger bags of rubbish.
Please turn off all music by 10pm, and keep noise to talking level only after this time.
Generators are permitted between the hours of 8am and 8pm, and they must not be used outside of these hours.
Unpowered: you need to book a regular site, our marshals will find a spot for you that fits your rig when you arrive. There is no need to specify this at the time of booking.
Powered: Powered sites are not large enough for Big Rigs. If you require power, you will need to book 2 x powered sites, and our marshal will direct you to adjacent sites.
Vehicles with a government-issued disability parking permit will be issued campsites that are closest to amenities, however this could still be a distance of 150m. Amenities are all located along the grassed area adjacent to the Grandstands on the outer side of the track, while camping is on the inner field of the racetrack. The camping area and the racetrack have uneven surfaces that may not be suitable for less-able people or anyone who has difficulty walking. Driving IS permitted at the Racecourse Camping, and you are permitted to use your vehicle to get to the amenities if needed.