Camping Overview
Mundiville is located on private property, at Belmont Station, which is a working sheep station. Camping is not usually permitted, and we're privileged to have the land-owner's permission to hold the Mundi Mundi Bash on these beautiful red dirt outback plains.
The camping arrangements and rules outlined on this page, as well in the Mundiville Site Rules, ensure the safety and comfort of everyone on site, and also help us take care of this special, outback property.
Camping is included in the cost of your ticket and is permitted for four nights: Thursday 21st to Monday 25th April (depart by midday Monday 25th).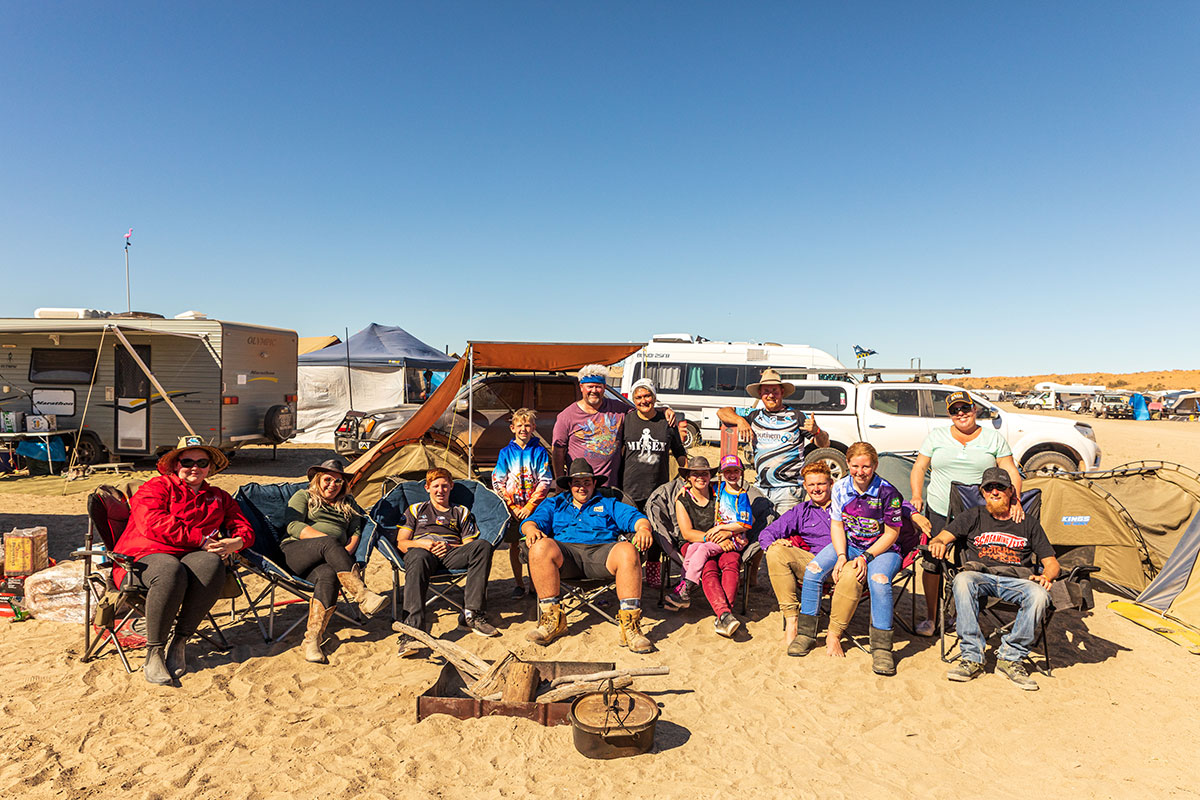 Entry & Exit Times
Your ticket determines the dates & times that you can come and go from the Mundiville campground. To find out what is allowed for your ticket, check the information below.

Arrival at Mundiville
You'll only be allowed to enter the campground during the permitted "roll in" dates & times (see above). If you arrive at the gate on the wrong day, or outside of the permitted time, you won't be allowed in.
During busy times allow at least 1 hour to drive between Broken Hill and Mundiville. Make sure you've picked up your vehicle pass and wristbands from the Broken Hill Racecourse in Broken Hill before you drive to Mundiville.
Campsites
At the Mundi Mundi Bash campsite boundaries are marked out, similar to a caravan park. You'll receive a minimum of approx. 90sqm per vehicle. Shapes of campsites will vary slightly, but most will be around 13.5m x 6.75m.
You'll be camping on the red dirt Mundi Mundi plains, north of the Barrier Ranges. The campground is suitable for 2wd vehicles including motorhomes & caravans. On road caravans are suitable for the site.
We expect that 99% of setups will fit in the generous campsite allocation, however if your big-rig physically doesn't fit, we will have a few larger sites available.
For more info on camping, see the FAQ page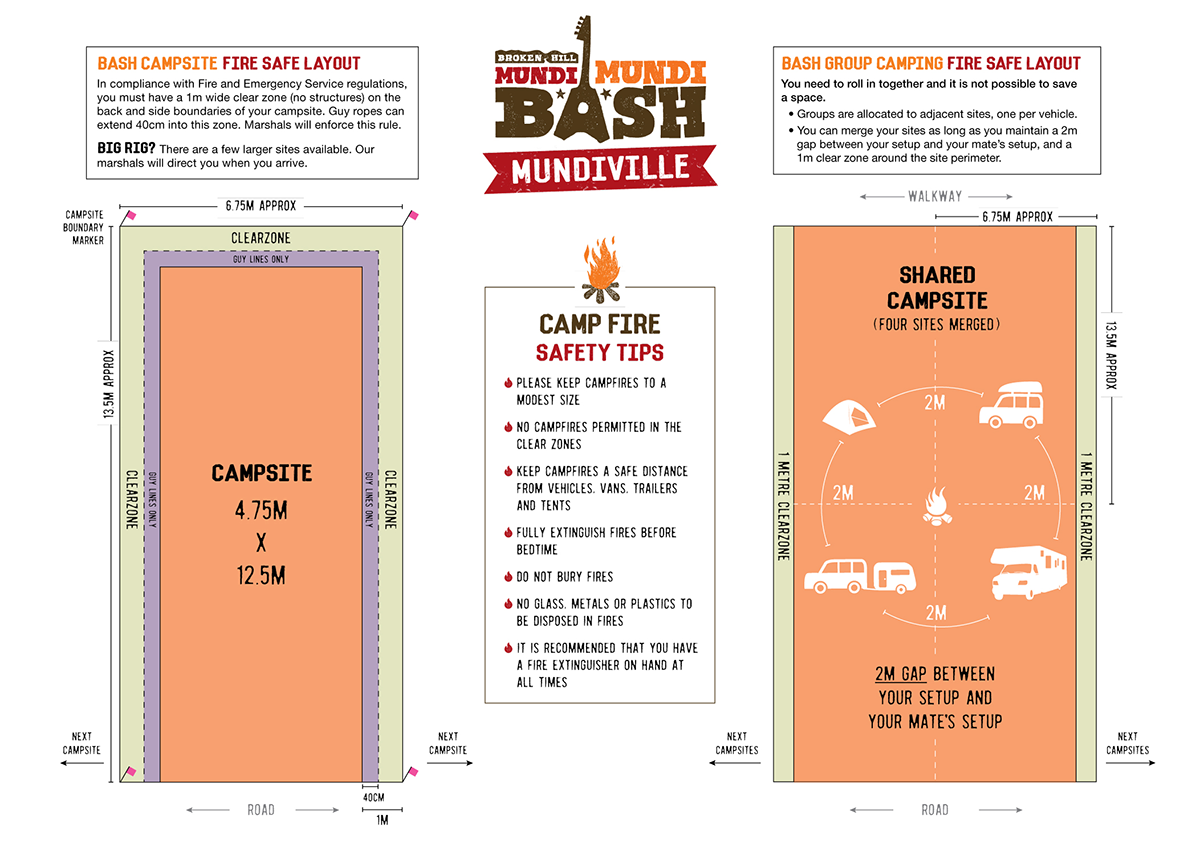 Camping and Caravan Fire Safety
To prevent the risk of a fire spreading in the campsite, you must place all structures at least 1 metre from the back and side boundaries of your campsite. Guy ropes can protrude another 40cm. Marshals will enforce this rule.
The fire services recommend this simple safety checklist to assist you in having a safer trip.
Before you leave home
Install a smoke alarm close to the sleeping area in your caravan. A smoke alarm with a hush button (that desensitises the alarm for a short period during cooking), and powered by a 10 year life, non-removable, non-replaceable battery, is recommended.
Test your fire alarm before leaving on holiday, and once a week when the caravan is in use. At home, test it monthly and change the batteries yearly.
Consider having a fire extinguisher and fire blanket near the exit as well.
Develop a fire escape plan that considers all occupants of a caravan and practice it regularly.
Before you leave home, ensure that you turn off any pilot lights in your caravan.
While travelling
Gas cylinders on caravans should be external and secure, with valves facing away from the van.
Regularly check your gas pipes and connectors. Make sure they are in good working order, particularly after driving on country roads.
At the Bash
Make sure you know how to get help in the event of a fire in Mundiville, and be familiar with the emergency evacuation points marked on the festival map.
Keep heaters away from the internal fittings in caravans.
Have a portable FM radio and tune in to BashFM to stay updated on changing weather conditions and fire restrictions that may be in force.
Never leave cooking unattended and always secure any matches and lighters.
Turn off any lanterns and extinguish campfires (with water not dirt) before going to bed.
Camping in a tent
Consider buying a flame retardant tent.
Never cook or smoke in tents.
Locate campfires a safe distance from any tents.
More information is available on the NSW Fire + Rescue website.
Group Camping
If you'd like to camp as a group with other vehicles, you'll need to arrive at the Mundi Mundi Bash site together. You won't be able to save a spot for a later arrival.
See the diagram above for more details on group campsite layout.
Camping with a disability
We welcome patrons with a disability or who are less-abled and will support your attendance in any way we can. Please register if you would like to camp in the disability camping area, and to access other disability services. Find out more about disability services here.
Camping with a Dog
The Mundi Mundi Bash is a dog-friendly event, and camping with dogs is permitted in the dog-friendly camping area. For more information please see the Dog Attendance Rules
Mundiville Site Rules
Everyone on site, including campers, must follow the Mundiville Site Rules. Make sure you're familiar with these - some require planning before you leave home.
Departing Mundiville
Roll out goes from 7am Sunday 24th April, until midday Monday 25th April. Those rolling out on Monday can camp at Mundiville on Sunday night at no extra charge.
For those staying on Sunday night: toilets will be available until midday Monday 25th, however all other facilities, including food vendors, and Mundiville medical centre, will no longer be available. Food vendors will stop serving after breakfast on Sunday morning.
Avoiding Roll Out Queues
During the busiest period of roll out we clear about 1 vehicle every 8 seconds. That's an impressive feat of logistics by our awesome team of volunteer marshals! However if everyone tried to leave at once there would be traffic jams and significant delays! That's why we have a long roll out period from Sunday morning until midday Monday.
Those leaving on Sunday morning should expect a wait of up to a couple of hours. So, if you don't want to wait in line, your best option is to plan your departure for Sunday afternoon after about 1pm, or Monday morning. If this doesn't suit, you could purchase an Early Exit Pass, allowing you to roll out Saturday afternoon or evening after the show and spend the night in Broken Hill.
Transfer Bus
There will be a privately-operated transfer bus service to and from Broken Hill. This is a great option if you'd like to take a trip to town during the event, or are staying in town and don't fancy driving out to the event each day. Pricing and timetable for the 35km one way trip will be made available closer to the event.
Early Entry Camping Pass
You can purchase an Early Entry Camping Pass if you want to roll in and camp at Mundiville earlier than general ticket holders (see the above table). Click here for more details.
Early Exit Pass
You can purchase an Early Exit Pass, which allows you to pack up and leave the Mundiville campground earlier than general ticket holders (see the above table). 100% of the proceeds from the purchase of Early Exit Passes are donated to RFDS and there's a limited amount available. For full details click here.