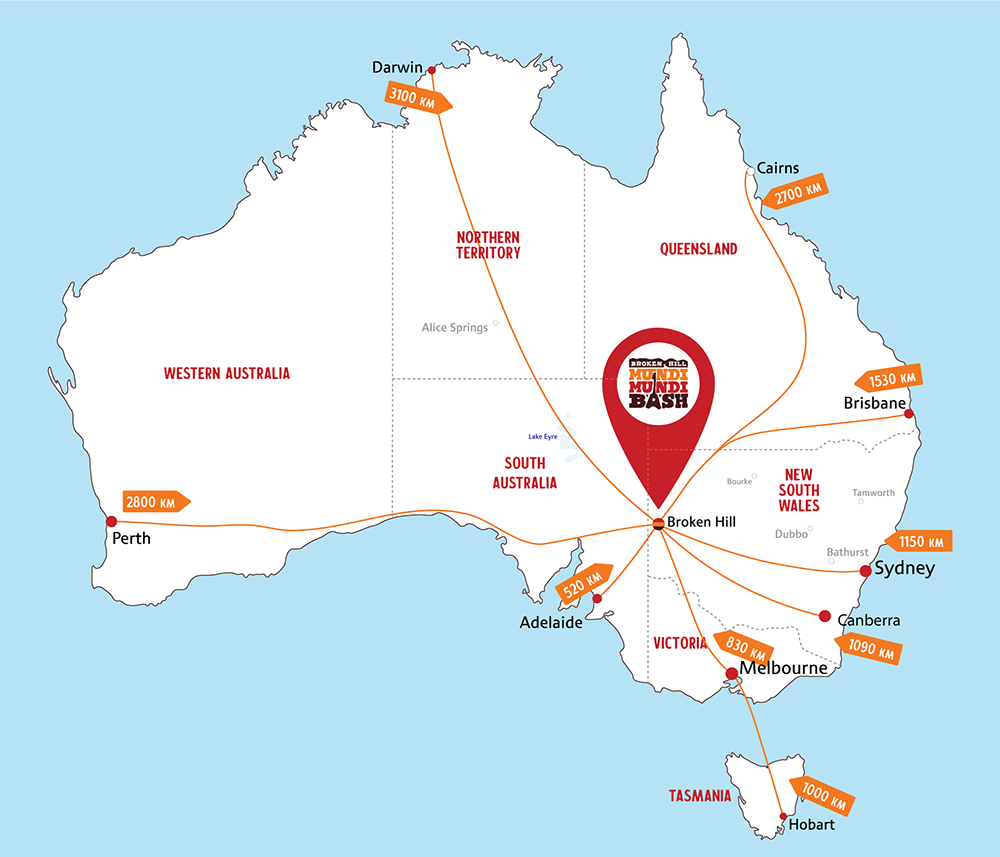 Broken Hill is located in the far western outback of New South Wales. It is not a leisurely 2-3 hours drive from the capital city, but that's the beauty… It is in Australia's great outback.
We know that you may find getting to Broken Hill a little bit daunting if you have never been before, but it's easily accessible on sealed roads and there are a number of travel options available to those coming to Mundi Mundi Bash.
It's a long way to go, but the road trip (if this is how you choose to travel) is all part of the adventure!
Let's just run through your main transport options below.
By Car
Broken Hill is around 1,150 km from Sydney (allow 2 days drive), 830km from Melbourne (allow a big days drive) 1,530 km from Brisbane (allow 2 big days drive) and 500 km from Adelaide (allow an easy days drive). Broken Hill is accessible from all directions on sealed roads, so you don't need a 4WD.
We also recommend not rushing and driving in the darkness after dusk and before dawn, due to the risks involved including wildlife such as wombats and kangaroos.
The event site on the Mundi Mundi Plains is also accessible by a sealed road from Broken Hill, with the final 2km stretch being dirt road suitable for all vehicles and caravans and camper trailers.
Use the table as a quick guide to check travel distances from around the country.
| | |
| --- | --- |
| Adelaide | 520km |
| Melbourne | 830km |
| Sydney | 1150km |
| Canberra | 1090km |
| Brisbane | 1530km |
| Perth | 2800km |
| Darwin | 3100km |
| Hobart | 1000km |
| FNQ Cairns | 2700km |
Road Conditions
Broken Hill is generally accessible by 2WD on sealed roads at all times. If your journey is taking you a little further off the main routes, it's wise to keep up to date with Local Road Conditions, particularly if there has been recent rain, or if it's on the forecast ahead.
Local Touring Routes
Once you're in the area, you might like to explore some of the local Touring Routes in outback NSW. It's a fantasic opportunity to explore the local area, and prolong your Outback adventure!
By Bus Train or Air
Broken Hill is serviced by regular bus, train and flight routes, for those who don't fancy the long drive themselves. Check out the Travel Fact Sheet for your options.